SDX-HYI Academic Library Series wins 2015 Paju Book Award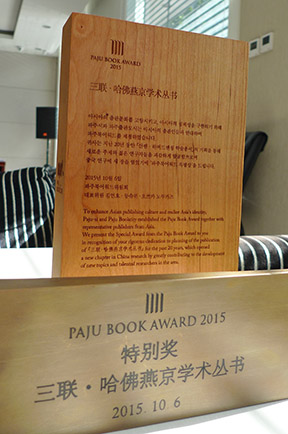 The SDX-HYI Academic Library Series (三联·哈佛燕京学术丛书) received the 2015 Paju Book Award, which was awarded during the biennial East Asian Publishers Forum (东亚出版人论坛). This award was established by Paju-si and Paju Book City to enhance Asian publishing culture and was given to the SDX-HYI series in "recognition of rigorous dedication to publishing in the past 20 years, which opened a new chapter in China research by greatly contributing to the development of new topics and talented researchers in the area."
The book series is a collaborative project which, since 1994, has published a range of academic books in the humanities and social sciences by young Chinese scholars. In 2014, a forum was held to celebrate the 20th anniversary of the series.